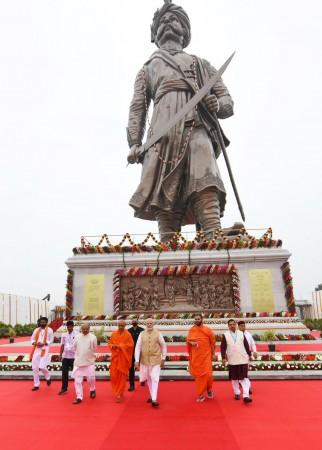 ---
PM Modi unveils 108-feet tall 'Statue of Prosperity' in Bengaluru
Category : National
Published on: November 16 2022 Share on facebook
Prime Minister Narendra Modi has unveiled the 108-foot-tall statue of the city's founder Nadaprabhu Kempegowda, which is the "first and the tallest bronze statue of a founder of a city", as per the 'World Book of Records'.
The statue weighing 218 tonnes (98 tonnes of bronze and 120 tonnes of steel) has been installed at the Kempegowda International Airport.
It has a sword weighing four tonnes.
The project comprising the Kempegowda statue and a 23-acre theme park has been built at a cost of around Rs 84 crore.
Kempegowda, a feudatory ruler under the erstwhile Vijayanagara Empire founded Bengaluru in 1537.
Renowned sculptor and Padma Bhushan awardee Ram Vanji Sutar has designed the statue. Sutar had built the 'Statue of Unity' in Gujarat and the statue of Mahatma Gandhi in Bengaluru's 'Vidhana Soudha'.