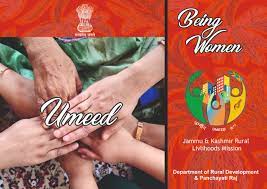 ---
J&K launches 'UMEED' scheme
Category : State
Published on: November 12 2022 Share on facebook
The UMEED scheme of Jammu and Kashmir Rural Livelihoods Mission (JKRLM) is providing wings to the aspirations of rural women in the Union territory, who dream of becoming economically independent.
The UMEED programme under JKRLM is a centrally sponsored scheme to encourage women to be self-dependent and self-sufficient.
It also encourages women to make small savings so that their Self-Help Groups (SHGs) eventually become bankable at reduced rate of interest.