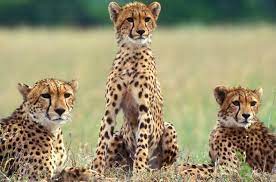 ---
India signs pact with S Africa to bring 12 cheetahs in February
Category : International
Published on: January 30 2023 Share on facebook
India has signed an agreement with South Africa to translocate 12 cheetahs to the Kuno National Park in Madhya Pradesh.
Seven male and five female cheetahs are expected to reach Kuno by February 15.
Cheetah is the only large carnivore that got completely wiped out from India due to over-hunting and habitat loss.
The last cheetah died in Koriya district of present-day Chhattisgarh in 1947 and the species was declared extinct in 1952.
Under the Cheetah reintroduction programme, Prime Minister Narendra Modi had released the first batch of eight eight spotted felines – five females and three males – from Namibia into a quarantine enclosure at Kuno on his 72nd birthday on September 17 last year.