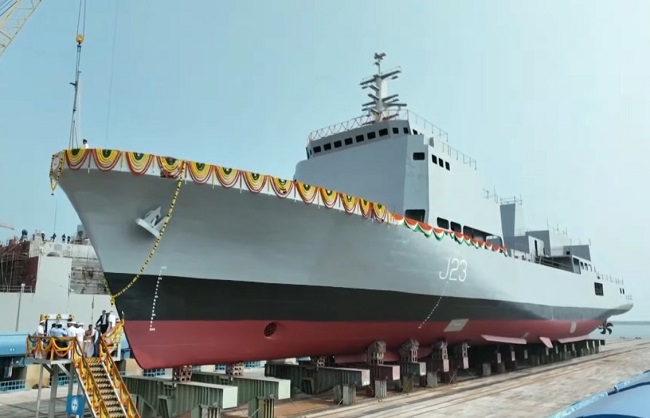 ---
Indian Navy launches new survey vessel 'Ikshak'
Category : Defense
Published on: November 29 2022 Share on facebook
The Indian Navy launched 'Ikshak', the third of the four survey vessels (Large) project, built by Garden Reach Shipbuilders and Engineers (GRSE) and Larson and Toubro (L&T) on Saturday at Kattupalli, Chennai.
The Survey Vessel (Large) ships are 110 m long, 16 m wide with deep displacement of 3,400 tonnes and a complement of 231 personnel
The ship has been named 'Ikshak' which means 'Guide'. The ship has been named to signify the contribution of the Survey ships towards facilitating safe passage for Mariners at Sea.
The first class ship 'Sandhayak' was launched on December 5 2021, at M/s GRSE, Kolkata, by Pushpa Bhatt, wife of Ajay Bhatt, MoS, who was the Chief Guest for the Launching Ceremony.